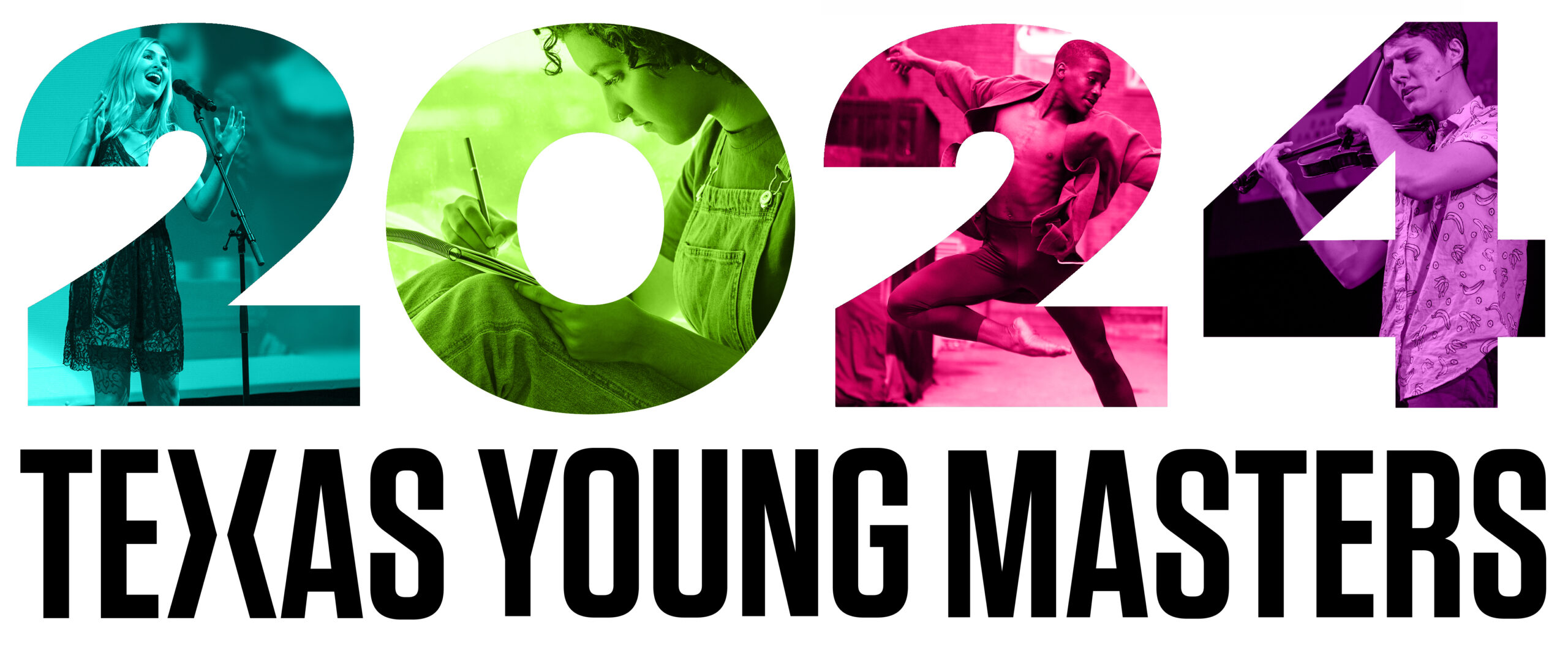 Spring 2024 Celebration in Austin
Apply to join the 2024 Class of Texas Young Masters

Education grants are open to all Texas 8th-11th grade students in the following creative disciplines:
MUSICAL THEATRE
LITERARY ARTS
DANCE
FILM / MEDIA
THEATRE
MUSIC
VISUAL ARTS
FOLK/TRADITIONAL ARTS
APPLY HERE
Applications closes November 1st, 2023.
View Photos from the 2022 TXYM Celebration
Jump To
About
Tickets
Sponsors
Sponsorship Opportunities
Success Stories
Application Information
A joint program between the Texas Cultural Trust and the Texas Commission on the Arts (TCA), Texas Young Masters awards scholarship grants to deserving young artists in music, theatre, dance, visual arts, literary arts, and other artistic disciplines.
The Trust announces a new class of Young Masters every biennium at an awards show celebrating the drive and talent of fifteen 8th through 11th grade students. Each student receives a $10,000 scholarship grant, over two years, to further their studies in their chosen field. Texas Young Masters helps our state's rising stars realize their potential as the next generation of leading visionaries in the arts.
Your support underwrites scholarship funding for Texas Young Masters over 2024 and 2025. The Texas Young Masters program helps our state's rising stars realize their potential as the next generation of leading visionaries in the arts.
Sponsorships offer an exclusive guest experience with opportunities for premium event access, branding, and recognition.
Sponsorship Information and Form
Christopher Vo
Vo used his scholarship grant to do a summer of study at Juilliard, which led to his eventual acceptance into the Juilliard program — one of only ten freshmen who received a full scholarship. He has toured extensively in Twyla Tharp's Come Fly Away national tour. He was also a featured dancer in the NBC show Smash and is recognized as a Presidential Scholar in the Arts. Vo is a graduate of Booker T. Washington High School of the Performing and Visual Arts.
2002 YOUNG MASTER IN DANCE
Ida Saki
Saki is a first generation Iranian-American from Dallas, whose love of dance stems in part from her mother not being able to study the art form as a young girl in Iran. Since Young Masters, she has wowed the judges on So You Think You Can Dance, and received numerous national honors, including Distinguished Performer of the Year and Outstanding Dancer of the Year. She was also the first female dancer to be named a Presidential Scholar in the Arts. Saki also co-created/performed in a show that premiered at the John F. Kennedy Center for the Performing Arts.
2010 YOUNG MASTER IN DANCE
Charles Yang
Described by The Boston Globe as, "One who plays classical violin with the charisma of a rock star", Yang has performed as a soloist with orchestras and in recitals in the United States, Europe, Brazil, Russia, China, and Taiwan. He is also the recipient of numerous awards and honors. Yang attended The Juilliard School after graduating from Westlake High School in Austin.
2004 YOUNG MASTER IN MUSIC
Ann Cho
Cho is a two-time National Young Arts Foundation Winner in Classical Music. She has won top prizes at the MTNA National Solo Competition, Austin Civic Orchestra's Pearl Amster Competition, Austin Symphony Orchestra's Youth Awards, and the Longy School of Music's Concerto Competition. At the age of five, she was the youngest violinist of the Boston Youth Symphony Orchestra.
2014 YOUNG MASTER IN MUSIC
The Texas Young Masters program is a joint initiative between the Texas Cultural Trust and the Texas Commission on the Arts, recognizing creative excellence in 8th through 11th graders in dance, theatre, literary arts, media arts, film, music, and visual arts. The program awards scholarship grants of $5,000 per year, for two years, nurturing our rising stars to become the Texas legends of tomorrow.
The program is available to students engaged in the arts, offering financial assistance to develop their unique talents. Students may be enrolled in a program through their school or receive private lessons from a qualified professional instructor.
Sign Up for Program Notifications
This content is credited to the Texas Commission on the Arts.
Application Criteria
Artistic Quality (50 points)
Does the student currently evidence a high level of aptitude and skill in their chosen field for their current age?
Capability (25 points)
Is the course of study appropriate for the student? Has the applicant provided substantial evidence that there is a strong commitment on the part of the student, instructor, and parents? 
Impact (25 points)
Is the course of study likely to achieve the intended goals? Will support for the application provide an opportunity not otherwise available to the student (because of economic need, geographic isolation, or lack of appropriate expertise/opportunity within the community to pursue specific artistic development/genre)?